With three days remaining in the signing period for the amateur draft picks, the Twins are placing themselves in a position to lose their first number one pick since Travis Lee in 1996. Kyle Gibson, the right-handed pitcher out of the University of Missouri, has requested a bonus of near $2.5 million – well above the MLB slot recommendation of $1.287 (a ten percent decrease from 2008) – based upon a outstanding college track record and a high Baseball America ranking. The Twins' offer is supposedly $1 million short of Gibson's request as the organization has valid concerns regarding his injury history. While Gibson certainly has talent, the Twins have what should be viewed as legitimate apprehension to schilling out that money.
In December 2008, well before the release of his injury, Driveline Mechanics deconstructed Gibson's delivery. Using this video segment of Gibson pitching in the Cape Cod League in 2007, Kyle Boddy of DM.com identified several problematic areas in his mechanics; the first of which is less troubling then the other two. Because of Gibson's tall, lanky frame, he's got an enormous distance to cover in his stride – a step that takes just shy over an eternity. Boddy focuses in on the leg-lift itself which, as he notes, is borderline worthless. This has been echoed in several different scouting forums and it provides insight to Baseball America's lone criticism of Gibson was that he was unable to generate more velocity during his three-year tenure in the Show-Me-State: he's throwing all arm (a problem I'll address in a minute). From a developmental standpoint, it would seem that Gibson still has velocity yet to be milked out of him. Gibson's motion of raising his long leg in to a very solid balance point is good; however, instead of driving towards the plate, Gibson lowers his leg then starts his push towards home – minimizing hip force. Why is that a problem? It puts added exertion on his arm.
The arm, of course, is a huge fixation when projecting Gibson. Prior to June when it was made known of his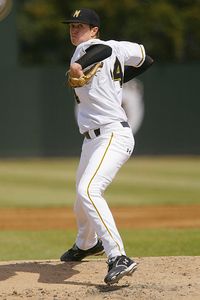 forearm fracture, Gibson was touted as a top five and certainly a top ten pick in the 2009 draft. The news of the arm injury naturally caused many teams to recoil in doubt. Forearm stress fractures are typically results of repetitive flexion-extensions (flexing-straightening) of the elbow or pronation-supination (inner-outer movement) of the wrists. Reviewing the footage of Gibson's arm motion, Boddy finds that there is plenty of evidence of this. Highlighting his loading process, Boddy notes that his elbow at this position comes to a point of near hyperabduction. While his scapula loading (or "scap loading" which is the act of bringing your arm/elbow to shoulder height and then pulling the elbow back towards the shoulder) might not be as violent as say, Brandon McCarthy, this motion is a forced one – causing undue stress on the shoulder and elbow joints. Although it might not be the source of his forearm stress fracture (I would suspect that might have to do with his plus-slider that he would have been throwing with his upper-body), Gibson's mechanics will need some re-evaluation in the lower-levels unless the Twins want to flirt with more injuries.
Oddly enough, Gibson told Alex Halsted in his recent interview that he is most like the Tigers' Justin Verlander – who was a similarly tall, thin, hard-throwing, right-handed collegiate draft pick. Unfortunately, that's about where the similarities end. Gibson claimed that he is like the Detroit pitcher in that he "allows his body to work with his arm." This may be a simple case of terrible self-awareness or an ingenious PR push at the signing deadline but my guess is that it is the former. It is true that Verlander generates a substantial amount of velocity from a hip-heavy motion and while he shares a high leg kick with Gibson, Verlander uses this height to propel his body forward thus creating less effort on his arm. Gibson certainly does not share this trait. Furthermore, Joe Christensen's blog re-posting of the quote only tossed more chum in the water for disgruntled Twins fans who subsequently littered the comments section with scathing words for the franchise that would choose to pass on the next Verlander.
Yes, Gibson's 6'6" frame allowed for unbelievable projectability and his lower portion of his body could probably be corrected in rookie ball but his right-handed delivery mechanism might already be beyond damaged coupled with the time commitment to overhaul his mechanics and it is decisively tougher to open the checkbook. Spending what Christensen reported was a desired income of $2.5 million suddenly seems like a foolish investment. The Twins scouting department gambled on Gibson's projectability and wagered that he would be more accommodating to sign for the current MLB slot recommendation considering all of the factors which caused his stock to sink. The organization probably figured they could outfit him with new mechanics and teach him to throw a change-up thereby transforming him into a top-of-the-rotation pitcher or, at minimum, a solid relief arm. Meanwhile Gibson, like every other red-blooded American, believes he should be paid what he are worth – and Gibson had been told his value was of a top five pedigree.
It is quite the contradiction, as Twins minor league prospect guru, Seth Stohs, noted in a recent conversation, the Twins spent time telling him how desirable he was to the organization then when it comes down to dollars and cents, they retract their message. We like you, just not as much as you think you deserve. It is a hard truth of the business on both sides.